ERN ReCONNET
ePAGs
Silvia Aguilera
[/vc_row]
Silvia Aguilera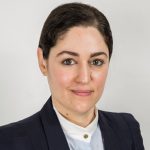 With a background in Chemical and Industrial Engineering and a PhD in Materials Science, Silvia is since 2020 the Vice-President of the Spanish Antiphospholipid Association (SAF España), where she has been collaborating as a Scientific advisor and Communications Manager since 2015.
Silvia is part of the EURORDIS working groups on Training and Education, Communications with European Patients, the Assessment, Monitoring, Evaluation and Quality Improvement System (AMEQUIS), and Compensation, as well as the transversal ERN Pregnancy and Family Planning Group.
Since 2021, Silvia joined Ilaria Galetti as co-lead of the ReCONNET ePAG group.
[/vc_column][/vc_row]