ERN ReCONNET
Patients
What you need to know about Clinical Practice Guidelines
What you need to know about CPGs
Let's start with the ERN ReCONNET webinar on Clinical Practice Guidelines and the related infographic.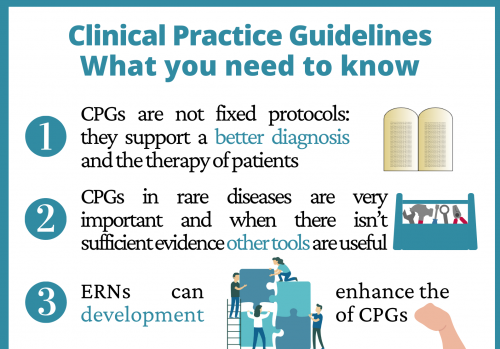 Then you could check out the Supplement on State of the art on Clinical Practice Guidelines, published on RMD Open. This is one of the first results of the collaboration of Healthcare Providers and Patients in the framework of the European Reference Network on Rare and Complex Connective Tissue and Musculoskeletal Diseases.
The Supplement presents a short report on the first year of activity of the ERN ReCONNET, ten reviews on clinical practice guidelines of the Diseases covered by the ERN ReCONNET project, and a report on rCTDS Health Economics.
Here you could find some other useful links on topic:
Armstrong MJ, Mullins CD, Gronseth GS, Gagliardi AR.

Impact of patient involvement on clinical practice guideline development: a parallel group study

. Implement Sci. 2018;13(1):55.
Pavan S, Rommel K, Mateo Marquina ME, Höhn S, Lanneau V, Rath A.

Clinical Practice Guidelines for Rare Diseases: The Orphanet Database

. PLoS One. 2017;12(1):e0170365.
Woolf SH, Grol R, Hutchinson A, Eccles M, Grimshaw J.

Clinical guidelines: potential benefits, limitations, and harms of clinical guidelines

. BMJ. 1999;318(7182):527-530.