RMD Open Supplement on Clinical Practice Guidelines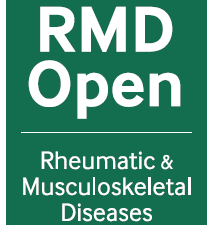 We proudly announce that the Supplement on State of the Art on clinical practice guidelines on rare and complex Connective Tissue Diseases is now available on RMD Open. This is one of the first results of the collaboration of Healthcare Providers and Patients in the framework of the European Reference Network on Rare and Complex Connective Tissue and Musculoskeletal Diseases.
The Supplement presents a short report on the first year of activity of the ERN ReCONNET, ten reviews on clinical practice guidelines of the Diseases covered by the ERN ReCONNET project, and a report on rCTDS Health Economics.
Click here to see the table of contents of the Supplement or click below to find the specific links to the single articles.
Clinical practice guidelines: the first year of activity of the European Reference Network on Rare and Complex Connective Tissue and Musculoskeletal Diseases (ERN ReCONNET)
Marta Mosca and Maurizio Cutolo
Antiphospholipid syndrome: state of the art on clinical practice guidelines
Marteen Limper, Carlo Alberto Scirè, Rosaria Talarico, Zahir Amoura, Tadej Avcin, Martina Basile, Gerd Burmester, Linda Carli, Ricard Cervera, Nathalie Costedoat-Chalumeau, Andrea Doria, Thomas Dörner, João Eurico Fonseca, Ilaria Galetti, Eric Hachulla, David Launay, Filipa Lourenco, Carla Macieira, Pierluigi Meroni, Carlo Maurizio Montecucco, Maria Francisca Moraes-Fontes, Luc Mouthon, Cecilia Nalli, Veronique Ramoni, Maria Tektonidou, Jacob M van Laar, Stefano Bombardieri, Matthias Schneider, Vanessa Smith, Ana Vieira, Maurizio Cutolo, Marta Mosca and Angela Tincani
Ehlers-Danlos syndromes: state of the art on clinical practice guidelines
Alberto Sulli, Rosaria Talarico, Carlo Alberto Scirè, Tadej Avcin, Marco Castori, Alessandro Ferraris, Charissa Frank, Jürgen Grunert, Sabrina Paolino, Stefano Bombardieri, Matthias Schneider, Vanessa Smith, Maurizio Cutolo, Marta Mosca and Fransiska Malfait
Idiopathic inflammatory Myopathies: state of the art on clinical practice guidelines
Alain Meyer, Carlo Alberto Scirè, Rosaria Talarico, Tobias Alexander, Zahir Amoura, Tadej Avcin, Simone Barsotti, Lorenzo Beretta, Jelena Blagojevic, Gerd Burmester, Ilaria Cavazzana, Patrick Cherrin, Laura Damian, Andrea Doria, João Eurico Fonseca, Federica Furini, Ilaria Galetti, Frederic Houssiau, Thomas Krieg, Maddalena Larosa, David Launay, Raquel Campanilho-Marques, Thierry Martin, Marco Matucci-Cerinic, Pia Moinzadeh, Carlomaurizio Montecucco, Maria Francisca Moraes-Fontes, Luc Mouthon, Rossella Neri, Sabrina Paolino, Yves Piette, Simona Rednic, Farah Tamirou, Angela Tincani, Natasa Toplak, Stefano Bombardieri, Eric Hachulla, Ulf Mueller-Ladner, Matthias Schneider, Vanessa Smith, Ana Vieira, Maurizio Cutolo, Marta Mosca and Lorenzo Cavagna
IgG4-related disease: state of the art on clinical practice guidelines
Luca Iaccarino, Rosaria Talarico, Carlo Alberto Scirè, Zahir Amoura, Gerd Burmester, Andrea Doria, Karim Faiz, Charissa Frank, Eric Hachulla, Miguel Hie, David Launay, Carlomaurizio Montecucco, Sara Monti, Luc Mouthon, Angela Tincani, Paola Toniati, Pieter Martin Van Hagen, Ronald F Van Vollenhoven, Stefano Bombardieri, Ulf Mueller-Ladner, Matthias Schneider, Vanessa Smith, Maurizio Cutolo, Marta Mosca and Tobias Alexander
Mixed connective tissue disease: state of the art on clinical practice guidelines
Benjamin Chaigne, Carlo Alberto Scirè, Rosaria Talarico, Tobias Alexander, Zahir Amoura, Tadej Avcin, Lorenzo Beretta, Andrea Doria, Aurelien Guffroy, Vera Guimarães, Éric Hachulla, Thomas Krieg, David Launay, Gemma Lepri, Pia Moinzadeh, Ulf Müller-Ladner, Simona Rednic, Ana Rodrigues, Sander Tas W, R F van Vollenhoven, Ana Vieira, Stefano Bombardieri, João Eurico Fonseca, Ilaria Galetti, Matthias Schneider, Vanessa Smith, Maurizio Cutolo, Marta Mosca and Rebecca Fischer-Betz
Relapsing polychondritis: state of the art on clinical practice guidelines
Simona Rednic, Laura Damian, Rosaria Talarico, Carlo Alberto Scirè, Alexander Tobias, Nathalie Costedoat-Chalumeau, David Launay, Alexis Mathian, Lisa Mattews, Cristina Ponte, Paola Toniati, Stefano Bombardieri, Charissa Frank, Matthias Schneider, Vanessa Smith, Maurizio Cutolo, Marta Mosca and Laurent Arnaud
Sjögren's syndrome: state of the art on clinical practice guidelines
Vasco C Romão, Rosaria Talarico, Carlo Alberto Scirè, Ana Vieira, Tobias Alexander, Chiara Baldini, Jacques-Eric Gottenberg, Heidi Gruner, Eric Hachulla, Luc Mouthon, Martina Orlandi, Cristina Pamfil, Marc Pineton de Chambrun, Marco Taglietti, Natasa Toplak, Paul van Daele, Jacob M van Laar, Stefano Bombardieri, Matthias Schneider, Vanessa Smith, Maurizio Cutolo, Marta Mosca and Xavier Mariette
Systemic Lupus Erythematosus: state of the art on clinical practice guidelines
Farah Tamirou, Laurent Arnaud, Rosaria Talarico, Carlo Alberto Scirè, Tobias Alexander, Zahir Amoura, Tadej Avcin, Alessandra Bortoluzzi, Ricard Cervera, Fabrizio Conti, Alain Cornet, Hervé Devilliers, Andrea Doria, Micol Frassi, Micaela Fredi, Marcello Govoni, Frederic Houssiau, Ana Lladò, Carla Macieira, Thierry Martin, Laura Massaro, Maria Francisca Moraes-Fontes, Cristina Pamfil, Sabrina Paolino, Chiara Tani, Sander W Tas, Maria Tektonidou, Angela Tincani, Ronald F Van Vollenhoven, Stefano Bombardieri, Gerd Burmester, João Eurico Fonseca, Ilaria Galetti, Eric Hachulla, Ulf Mueller-Ladner, Matthias Schneider, Vanessa Smith, Maurizio Cutolo, Marta Mosca and Nathalie Costedoat-Chalumeau
Systemic sclerosis: state of the art on clinical practice guidelines
Vanessa Smith, Carlo Alberto Scirè, Rosaria Talarico, Paolo Airo, Tobias Alexander, Yannick Allanore, Cosimo Bruni, Veronica Codullo, Virgil Dalm, Jeska De Vries-Bouwstra, Alessandra Della Rossa, Oliver Distler, Ilaria Galetti, David Launay, Gemma Lepri, Alexis Mathian, Luc Mouthon, Barbara Ruaro, Alberto Sulli, Angela Tincani, Els Vandecasteele, Amber Vanhaecke, Marie Vanthuyne, Frank Van den Hoogen, Ronald Van Vollenhoven, Alexandre E Voskuyl, Elisabetta Zanatta, Stefano Bombardieri, Gerd Burmester, Fonseca João Eurico, Charissa Frank, Eric Hachulla, Frederic Houssiau, Ulf Mueller-Ladner, Matthias Schneider, Jacob M van Laar, Ana Vieira, Maurizio Cutolo, Marta Mosca and Marco Matucci-Cerinic
Undifferentiated Connective Tissue Disease: state of the art on clinical practice guidelines
Margarida Antunes, Carlo Alberto Scirè, Rosaria Talarico, Tobias Alexander, Tadej Avcin, Chiara Belocchi, Andrea Doria, Franco Franceschini, Ilaria Galetti, Marcello Govoni, Eric Hachulla, David Launay, Gemma Lepri, Carla Macieira, Marco Matucci-Cerinic, Carlo Maurizio Montecucco, Maria Francisca Moraes-Fontes, Luc Mouthon, Sabrina Paolino, Veronique Ramoni, Chiara Tani, Sander W Tas, Angela Tincani, Ronald Van Vollenhoven, Margherita Zen, Joao Fonseca, Stefano Bombardieri, João Eurico Fonseca, Matthias Schneider, Vanessa Smith, Maurizio Cutolo, Marta Mosca and Lorenzo Beretta

Rare diseases under different levels of economic analysis: current activities, challenges and perspectives
Sara Cannizzo, Valentina Lorenzoni, Ilaria Palla, Salvatore Pirri, Leopoldo Trieste, Isotta Triulzi, Giuseppe Turchetti