ERN ReCONNET
Activities
Exchange Programme
Exchange Programme
The aim of the ERN Short-Term Exchange Program is to enhance knowledge sharing and stimulating collaboration between health care professionals in ERNs and strengthen capacities and organisation of the ERNs. Ecorys Ltd supports all European Reference Networks with the design and logistics of the Exchange Programme of the European Commission.

ERN ReCONNET launched 2 calls for interest (of a total of 3 calls of interest): The first edition started in 2021, after the first call, 3 exchanges were organised and the program was stopped due to the pandemic; a second call was launched in 2022 and a total of 43 Exchanges were organised out of the 52 received applications. ERN ReCONNET is the second ERN in terms of number of packages used.  

The programme was a great success in ERN ReCONNET, participants have particularly appreciated the opportunity of visiting other ERN centres. Interest on this exchange program was received also from outside the Network (non-ERN members). The opportunity of organising a new Exchange Program will be discussed during the preparation of the new Grant (2023-2027). 

If you are a Health professional working in the ERN ReCONNET centres or an ERN ReCONNET ePAG, you will be allow to apply for the next edition.

The Short-Term exchange programme is meant to meet goals and strengthen capacity on the network level. It is not meant for research nor for individual development (though this may be a secondary effect of the exchange programme). The thematic scope includes medical practice and skills but also organisational aspects of a network.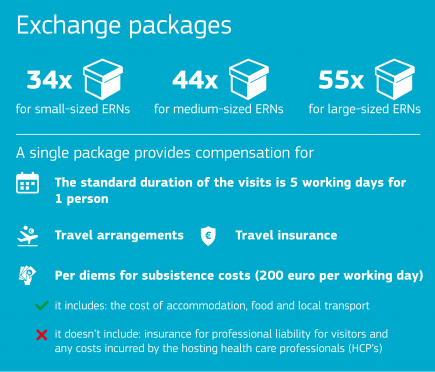 Specific priorities that the ReCONNET will address, are:
Sharing of clinical and organisational knowledge on rCTDs aimed at improving care
Education and training of healthcare professionals on rCTDs
Sharing good practices on rCTDs
Support of patient empowerment and education on rCTDs
As defined by the Commission, each ERN will decide which proposals will be rewarded, in consultation with the EC and Ecorys. Exchange visits will address the above-mentioned priorities.
ERN ReCONNET Reports on the Exchange Program