NEW ERN RECONNET WEBINAR. Systemic sclerosis (SSc) patients and doctors: A win win alliance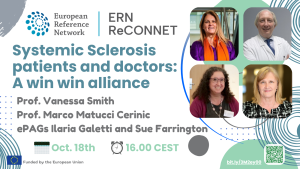 ERN ReCONNET is glad to announce its new webinar on the win-win alliance between Systemic Sclerosis (SSc) patients and doctors, featuring Prof.  Vanessa Smith and Prof. Marco Matucci Cerinic as our SSc Disease Coordinators together with ERN ReCONNET ePAG representatives Ilaria Galetti and Sue Farrington.
The webinar aims at illustrating that most of the decisions taken together by a clinician and a patients lead to better outcomes and adherence.
The webinar is schedule for Wend. Oct. 18th at 4pm CEST.
The focus will be around Systemic Sclerosis (SSc), more information and resources on SSc can be found at our disease webpage. 
Registration is free and open at this link.