EULAR European Congress of Rheumatology (12-15 June 2019, Madrid)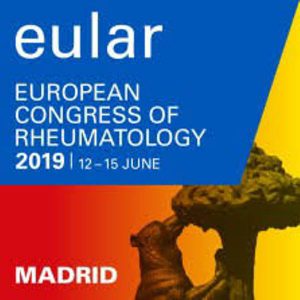 EULAR will take its Annual Scientific Congress to Madrid, Spain, from 12-15 June in 2019. The annual EULAR Congresses comprise the major event in the calendar of world rheumatology.
EULAR 2019 will provide an unique event for the exchange of scientific, clinical and patientfocussed information on a global basis, and will offer a platform to facilitate interaction between physicians, scientists, patients of all ages and their families, health professionals and professionals representing the pharmaceutical industry, from across Europe and around the world. 
The European League Against Rheumatism (EULAR) is the organisation which represents the patient, health professional and scientific societies of rheumatology of all the European nations. EULAR endeavours to stimulate, promote, and support the research, prevention, treatment and rehabilitation of rheumatic diseases. 
ERN ReCONNET will be present at EULAR 2019 with a dedicated booth. The Congress will also provide the opportunity for a meeting between ePAGs, HCPs, Disease Coordinators and Steering Committee members.