Webinar EDS Syndrome: a disorder with many faces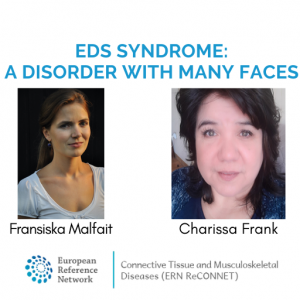 The Ehlers-Danlos syndromes comprise a clinically and genetically heterogeneous group of heritable connective tissue disorders, which are characterized by joint hypermobility, skin hyperextensibility, and tissue friability. The 2017 International EDS Classification recognizes 13 EDS subtypes, for which defects have been identified in 19 different genes that code for extracellular matrix proteins. Some of these conditions are very rare; these are usually very complex and multisystemic conditions.
Prof. Dr. Fransiska Malfait and Charissa Frank will hold the webinar EDS syndrome: a disorder with many faces next Wednesday 17th June 2020 at 14:00 CET. During this webinar, the clinical presentation and (molecular) diagnosis of the EDS subtypes will be discussed and illustrated.
Please note: to attend the webinar you should register here
Prof. dr. Fransiska Malfait is a rheumatologist and clinical geneticist at the Center for Medical Genetic, Ghent University Hospital, Belgium. She leads a multidisciplinary clinic for patients with Ehlers-Danlos syndromes (EDS) and related heritable connective tissue disorders and co-supervises the molecular diagnostic lab for heritable connective tissue disorders. Fransiska Malfait's team made key contributions to the clinical delineation, molecular characterization and classification of several heritable connective tissue disorders, and several types of EDS in particular. She co-chaired the First International Symposium on the Ehlers-Danlos syndrome (Sept 2012, Ghent, Belgium). Following this symposium, she co-established the International EDS Consortium, which is an active international network of clinicians, allied health professionals, basic scientists and patient advocates working within the field of EDS. She was the driving force behind the update and publication of new EDS classification. She was subsequently elected the chair the Second International Symposium on the Ehlers-Danlos syndromes (Sept 2018, Ghent, Belgium). As the Senior Disease Coordinator for EDS for ERN ReCONNET and a member of the ERN for rare vascular diseases, VASCERN, the Chief Scientific Officer of the International EDS Society, and a current member of the steering committee of the international EDS Consortium, she plays a key role in developing clinical care guidelines, and coordinating and stimulating international collaborative research on EDS and related disorders.
Charissa Frank is a patient with Ehlers Danlos Syndrome and patient advocate for (Rare) Heritable Connective Tissue Disorders. She currently is president of the Flemish Patient Organization for Connective Tissue Disorders. She volunteers as ePAG (European patient advocate group) in the ERNs ReCONNET (EDS) and VASCERN (HTAD & vEDS) as well as EURORDIS volunteer in several workgroups representing the voice of all Connective Tissue Disorder patients and others. She is a board member of ReCONNET. She is a panelist with the EJP-RD (European Joint Program – Rare Disease) Networking Scheme group and a patient expert with the Ehlers Danlos Society and the International EDS Consortium. In function of these roles, she has co-authored and contributed to many publications. She is active on local, national, European and International levels.
The webinar recording is available here