ERN ReCONNET at EULAR 2023!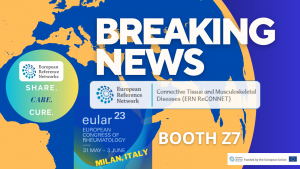 ERN ReCONNET will be at the EULAR Congress that will be held in Milan, Italy from May 31st to June 3rd.
ERN ReCONNET will have a dedicated booth in Z7, visit us. The Coordination Team look forward to meeting you and sharing with you its latest network news and initiatives; also, ERN ReCONNET cool gadgets are waiting for you!
ERN ReCONNET is happy to be part of this important event and contribute to its success in educate, stimulate, and inspire healthcare professionals and stakeholders. Thanks to ERN ReCONNET fellowships, two patient representatives and three young clinicians will be able to join the EULAR 2023.
Info about the EULAR 2023 scientific program is available.