ERN ReCONNET joins the World Scleroderma Day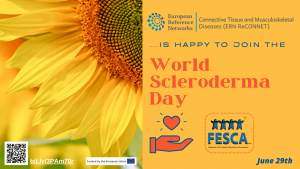 ERN ReCONNET is happy to join the World Scleroderma Day in collaboration with FESCA.
As ERN ReCONNET we are proud to have developed a dedicated Systemic Sclerosis (SSc) webpage where relevant and important information, documents, references, and ERN ReCONNET webinars are available.
In details, two webinars about "The Raynaud's phenomenon" and "Diagnosis and classification of SSc: Present and future challenges" were developed and are available also on our YouTube channel. A SSc English-lay version aimed at facilitating the patients' access to information about their disease and to make well-informed decision about their health is also available.
In addition, a list of existing clinical practice guidelines, useful references, SSc centers endorsed by ERN ReCONNET, and a list of European SSc patient organizations can be further explored. Visit the ERN ReCONNET SSc Disease Toolbox at this link.