ERICA Webinar: REMEDI4ALL / drug repurposing and clinical trial readiness by Anton Ussi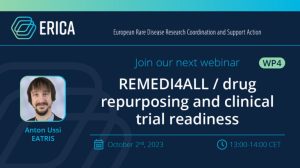 This webinar will discuss challenges associated with getting ready for and conducting clinical trials in drug repurposing, with a focus on differences between trial requirements for future on-label or off-label use. The discussion will also highlight key services and tools available to the community, as well as the REMEDi4ALL projects support offering.
The webinar is scheduled for Monday October 2nd,  from 13:00 to 14:00 CEST.
Registration is open.
This is an ERICA WP4 Clinical Trial Support webinar.