European Survey on Patient Education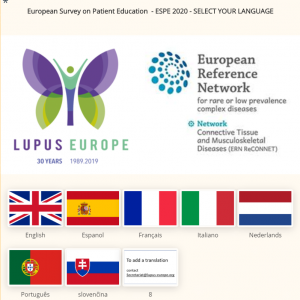 Lupus Europe and ERN ReCONNET Patient representatives have launched a short survey to better understand how we can improve quality of life for people living with a rheumatic condition through better patient education.
If you are a patient living with a Rheumatic condition or any other Chronic or rare disease, simply follow this link, select your language, and give us 3 short minutes of your confinement time to share your input. Then send the link to other patients, so that we get even more feedback.
Thank you for sharing your experience, it will help us make better programs.
The survey is available in english, español, français, italiano, nederlands, português, slovenščina.
If your language is missing and you are ready to help us, please contact secretariat@lupus-europe.org