L'ERN ReCONNET e il suo primo congresso scientifico a Brussel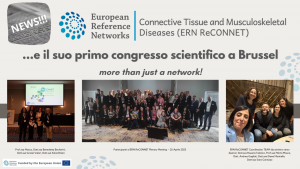 La Commissione Europea nel 2017 lanciò il progetto dei centri di riferimento europei (24 ERNs – European Reference Networks) volto alla creazione di un ecosistema logistico organizzativo su scala continentale che potesse dare risposte concrete ai pazienti rari e al tempo stesso favorire la ricerca, la collaborazione tra centri specialistici e istituzioni affinché nessuna persona con malattia rara venga lasciato indietro. In questi primi anni di vita, tutti gli ERN hanno focalizzato le loro energie nel valorizzare progetti che riflettevano quella che era la loro missione principale, ridurre le differenze clinico-terapeutiche, abbattere i tempi della diagnosi, facilitando così la gestione di patologie rare e complesse su scala europea attraverso la collaborazione tra centri ultra-specialistici. Temi come epidemiologia, diagnosi, bio-banche, registri, qualità della cura e gestione della presa in carico del paziente dal punto di vista clinico sono stati e sono ancora le fondamenta su cui gli ERN basano le loro attività.
ERN ReCONNET è il network di riferimento europeo per malattie rare e complesse associate al tessuto connettivo e muscoloscheletrico, sin dall'inizio ha incentrato il suo lavoro nella generazione e condivisione del sapere tra clinici e ricercatori, ma anche e soprattutto pazienti, nel sensibilizzare professionisti della salute, istituzioni e società civile su questi importanti temi, avendo come stella polare un approccio incentrato sul paziente.
L'ERN ReCONNET coordinato dalla Professoressa Marta Mosca dell'Unità Operativa di Reumatologia dell'Azienda Ospedaliero Universitaria Pisana, ha organizzato il suo primo congresso internazionale (European Reference Network on Rare and Complex Connective Tissue and Musculoskeletal Diseases) sulle malattie rare e a bassa prevalenza che colpiscono il tessuto connettivo si è tenuto a Bruxelles dal 20 al 22 aprile 2023. L'evento ha unito 200 partecipanti (clinici, ricercatori e pazienti) provenienti da 19 paesi europei per un momento di condivisione e riflessione sul lavoro portato avanti fino ora e sulle azioni da porre in essere per il futuro. È stata un'occasione importante che ha visto protagonisti tutti i partecipanti, i quali hanno trovato nuova linfa e stimolo per continuare il percorso intrapreso volto alla cura dei pazienti rari europei.
Al congresso ha partecipato la direzione dell'Azienda Ospedaliero Universitaria Pisana (AOUP) nelle figure del Direttore Generale, Dr.ssa Dr.ssa Silvia Briani, del Direttore Amministrativo, Dr.ssa Grazia Valori e del Direttore del Clinical Trial Center, Dott.ssa Benedetta Becherini. La loro partecipazione rappresenta un segnale importante per tutto l'ERN ReCONNET e in particolar modo per il Coordination Team, il quale li ringrazia per essere state presenti e per aver contribuito in modo costruttivo alle iniziative svoltesi.
Recentemente, la Commissione Europea ha inviato al Coordination Team di ERN ReCONNET la valutazione finale sul rapporto presentato dal coordinamento a conclusione delle attività portate avanti nel primo periodo di grant (2017-2022). La valutazione è stata eccellente, la Commissione si è congratulata per l'encomiabile lavoro svolto e per gli ottimi risultati ottenuti, tanto da considerare gli obiettivi raggiunti e la qualità del rapporto stesso presentato un riferimento per tutti gli altri ERNs. Forti del risultato raggiunto, il coordinamento rafforza ulteriormente il suo impegno per continuare a migliorare il lavoro svolto a favore dei pazienti rari europei e non solo.
Maggiori informazioni sull'ERN ReCONNET posso essere reperite al sito: https://reconnet.ern-net.eu/ ; per contattare direttamente il coordinamento si può usare il seguente indirizzo email: ern.reconnet(at)ao-pisa.toscana.it