OrphaNews is available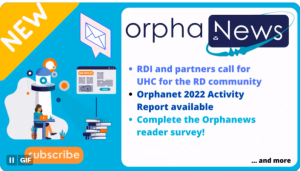 The new edition of OrphaNews is now available. Check the latest news on rare diseases from all over the world and organized by topics and regions.
In particular, in this issue you will find the editorial "Rare Diseases International (RDI) and partners call on UN Member States to realise UHC for the global rare disease community" focused on how to improve Universal Health Coverage for RD.
Insights on Orphanet's activity in 2022, news from other ERNs, Health Economics, European as well as International news, new syndromes and genes,  and much more. Read more here.