VASCERN Summer School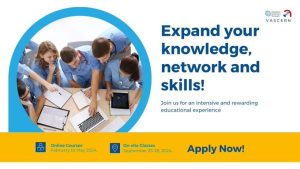 The 1st Edition of the VASCERN Summer School on Rare Vascular Diseases will take place from September 23 to 28, 2024. This immersive learning opportunity will follow a hybrid format, combining on-site classes in Paris (France) with a mandatory online course.
The VASCERN Summer School is open to medical students (e.g., undergrad, masters, PhD) as well as interns across Europe.
Participants should expect a comprehensive program covering a wide range of topics related to rare vascular diseases with Insightful lectures, Role Plays, Patient-Centered Approach, and Networking Opportunities. VASCERN experts and patient representatives will provide valuable insights into various aspects, including diagnosis, treatment, research and patient care.
Don't miss this incredible opportunity to expand your knowledge and make a positive impact on the rare vascular disease community.Share this with someone who should apply and kick start their journey in rare vascular diseases. 
Applications are open, more info, details, and the program can be found on the official VASCERN Summer School website here; feel free to download the pdf documents below.
VASCERN Summer School flyer 
VASCERN Summer School Booklet
ERASMUS Summer School flyer