XpanDH Webinar: The Risks for Europe Without a European Health Data Space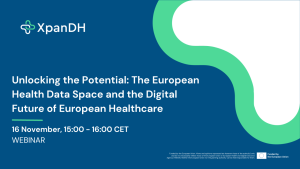 XpanDH will host its fourth webinar titled 'Unlocking the Potential: The European Health Data Space and the Digital Future of European Healthcare' on Thursday 16 November 2023, 14:00 ​- 15:00 CET​​ .
In September 2020 the announcement of a new legislative proposal for a European Health Data Space (EHDS) was made by European Commission President Ursula von der Leyen. ​In May 2022​ following an impact assessment and public consultations, the Proposed Regulation was published.
The EHDS is an integral part of building the European Health Union. In its current form, the current proposal creates an EHDS that empowers patients to control their electronic health data, promotes better exchange of electronic health data and sets rules for health record systems and wellness applications.
More info and registration link can be found here.